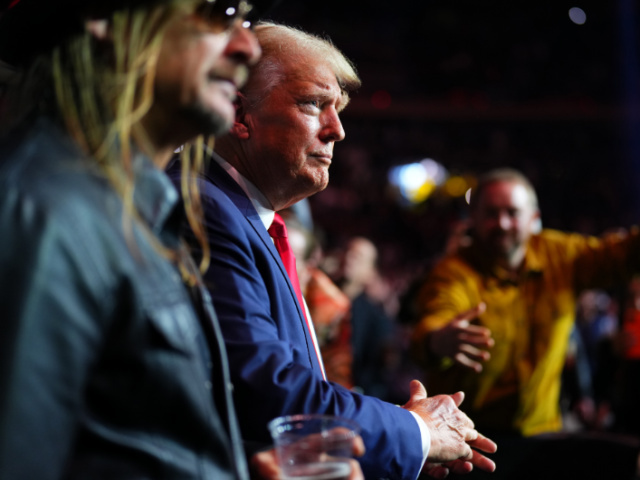 Comedian Bill Burr's wife was not happy to see former President Donald Trump walking to his seat at Madison Square Garden for UFC 295 on Saturday, video from the event reveals.
Burr's wife, Nia Renee Hill, was in the distinct minority with her disdain, because the crowd erupted in cheers and applause when Trump first exited the tunnel at the Garden. Still, as Donald Trump passed their seats on the way to his own, Burr's wife was seen raising both her middle fingers to the ex-prez, according to the Daily Mail.
Watch the video here:
Bill Burr's wife Nia Renée Hill loves Trump pic.twitter.com/ysmuo5xbV2

— Ethan Lemke (@Etrain230) November 12, 2023
Trump received a very warm welcome otherwise, as he walked through the crowd with companions Kid Rock, Tucker Carlson, and his son, Don. Jr.
The Mail also added that Hill may have yelled at Trump, but it is not known what she said.
AMERICAN BADASS! @realDonaldTrump x @TuckerCarlson x @danawhite x @KidRock pic.twitter.com/nbF5JwKsqK

— Steven Cheung (@TheStevenCheung) November 12, 2023
This random attack, though, did not appear to matter to Trump as he seemed to be enjoying the cheers. Trump has attended UFC events time and again and is usually well received by the fans.
On the other hand, Hill has been hating on Trump for a long time. In 2020, she tweeted that she hoped he would get the coronavirus.
God, I hope Trump gets coronavirus.

— Nia Renée Hill (@niasalterego) March 8, 2020
Trump entered the arena just before the featherweight match between Diego Lopes and Pat Sabatini, and watched as Lopes won in a knockout in the first round.
Trump often attends UFC fights and is always favored with a warm reception. In July, for instance, he attended UFC 290 in Vegas to great cheers:
There's no comparison, no competition, and no replicating. This American Badass is in a league of his own. pic.twitter.com/HZ0byijVMk

— Taylor Budowich (@TayFromCA) July 9, 2023
The hero's welcome in New York City stands in stark contrast to the constant attacks Trump is fielding from New York Attorney General Letitia James, who is pursuing civil charges against Trump and his family with a suit against the Trump Organization alleging criminal behavior.
Trump's legal team characterized the lawsuit as "politically-motivated" and meant to hurt his chances to be reelected to the White House in 2024.
Trump's attorney Alina Habba blasted AG James and told Breitbart News Saturday on SiriusXM 125 that she is playing around with illicit attacks on Trump while the city falls apart around her.
"She is only there on high-profile days," Habba said. "She does not come any other day. But she's been there so much while the city is falling apart. But it's quite telling as to what her priorities are as attorney general. And when you take that oath of office, your priority should not be yourself. Your priority should not be your politics. And it should not be trying to achieve a self-interested mission. It should be about taking care of the city."
The former president had also held massive, well-attended rallies in Hialeah, Florida, and Claremont, New Hampshire last week.
Follow Warner Todd Huston on Facebook at: facebook.com/Warner.Todd.Huston, or Truth Social @WarnerToddHuston