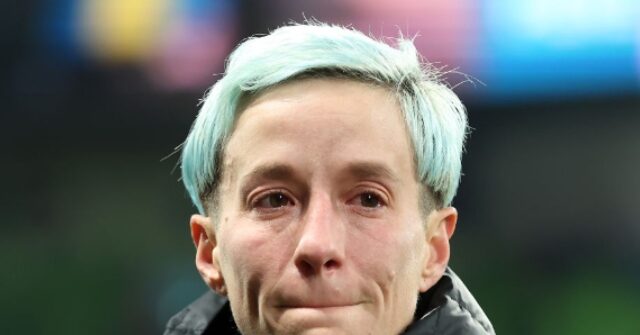 Anthem protester and left-wing activist soccer player Megan Rapinoe questioned the existence of God after suffering an injury three minutes into her final professional soccer game.
As the Trump critic and trans activist sat fielding questions at her post-game press conference, attempting to smile while in obvious pain, Rapinoe lamented her plight and said, "I mean, I don't deserve this, I'll tell you that much," she told reporters. "I'm not a religious person or anything, but if there is a God, this is proof that there isn't."
"If there was a God, this is proof there isn't"

Megan Rapinoe after getting injured and leaving the game early.pic.twitter.com/QByyJzoltL

— OutKick (@Outkick) November 12, 2023
As reported by Aol.com, "Rapinoe has won just about everything there is to win in soccer. Two World Cups. An Olympic gold medal. The Golden Ball and Golden Boot in the World Cup in 2019, the year she won the Ballon d'Or and was chosen the FIFA women's player of the year. Yet she had never won an NWSL title, something she had a chance to do with the OL Reign on Saturday against NJ/NY Gotham FC."
So, when Megan Rapinoe was winning everything there was to win in the world of soccer, hosting awards shows, meeting heads of state, and generally enjoying fame and fortune far exceeding anyone who has ever played her sport, this was not proof of God's existence. But as soon as she gets injured at the very tail end of her career, that is indisputable proof that God does not exist.
Everyone got that?
Seems like a healthy way of looking at the world. Of course, what it is, in fact, is the very thing Rapinoe and her leftist cohorts claim to hate the most: privilege. Megan Rapinoe has had one of the most storied careers in soccer history – male or female soccer – in addition to all other accolades she's compiled by achieving favored jock status by the left. And yet, with her admittedly bizarre twist of fate in her final game, she says, "I don't deserve this?"
It sounds like someone feels she has a "special right, advantage, or immunity granted or available only to a particular person or group.' In other words, the dictionary definition of privilege.
Rapinoe was blasted for her self-pitying on X:
Somewhere there's a little girl who plays at a Catholic school and idolized her. That sucks

— J.P. Scott (@TheJPScott) November 12, 2023
A loser in so many ways

— Kimberly Klacik (@kimKBaltimore) November 12, 2023
With all that's happening in the world, this is what she comes up with? Poor thing.

— Kelkat (@Tweetytweeter63) November 12, 2023
Just sad that someone can be so lost. Especially when they are given a platform and opportunity to reach others.

— All Rise (@btsportsfan) November 12, 2023
Rapinoe's team, the OL Reign, lost the championship game to NJ/NY Gotham FC, 2-1. You know, more proof that God doesn't exist.