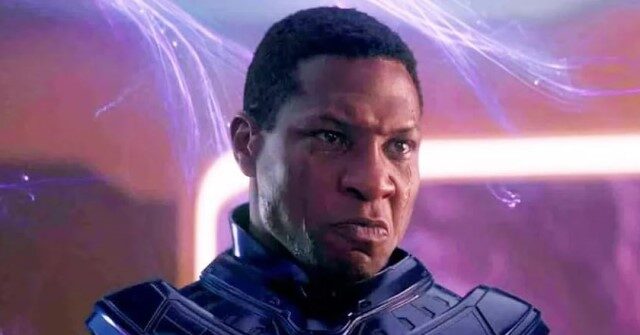 The compounding legal problems facing actor Jonathan Majors are forcing The Disney Grooming Syndicate to think seriously about replacing a key Marvel character already introduced and threaded into what's known as Marvel Phase Five.
Majors plays Kang the Conqueror, who is/was supposed to be the Phase Five Thanos — the iconic villain that drove the Marvel Cinematic Universe to the heights of Avengers: Endgame (2019). Kang was introduced in Ant-Man and the Wasp: Quantumnobodycares and further engrained in the continuing storyline by way of Loki: Season 2, which just concluded on Disney's faltering streaming and grooming outlet, Disney+.
Marvel now has two serious problems…
The first is that Majors is facing a pile-on of domestic abuse charges.
The second is that Hollywood is a fascist institution that no longer believes in the presumption of innocence or the rights of the accused, so even though Majors has not had his day in court, Hollywood is still blacklisting him. Or, should I say…
The Democrats who run Hollywood are blacklisting the black guy.
Because back when it looked like The Flash might be a big box office triumph, these same Hollywood Democrats were all lining up to save the white guy, Ezra Miller, whose rap sheet is much more troubling than the allegations against Majors. Not that the allegations against Majors aren't serious. They are.
Anyway, according to Jordan Ruimy, who frequently posts reliable scoops and is good at sifting through the inter-web-dot-nets and curating reliable scoops, Disney is preparing to dump Majors.
"As Jonathan Majors' legal situation worsens, the folks over at Disney and Marvel seem to have already made the decision to get rid of him," writes Ruimy based on a podcast where MCU: The Reign of Marvel Studios author Joanna Robinson dropped this bombshell:
I heard from someone recently…the screenwriter Jeff Loveness, who wrote Quantumania, was supposed to write The Kang Dynasty…anyway, it's confirmed. I had it confirmed to me he's no longer working for Marvel," she reveals. "I asked the person why, and they said the reason why is he was all wrapped up in this Kang storyline and they are likely going to be moving away from that.
Tee to the hee.
Already, Phase Five has been a disaster. Ant-Man and the Wasp: Quantumnobodycares underperformed. The Marvels, which hit theaters this weekend, is the biggest flop in the franchise's history, and the rumors around the upcoming Captain America: Brave New World and Blade smell of death and DEI.
And now, with Avengers: The Kang Dynasty (as in Jonathan Majors' Kang) already on the calendar for May of 2026, Marvel is looking at either 1) quickly rewriting a bunch of films and streaming series to introduce a new villain or 2) recasting Kang.
Suppose Marvel decides to shoehorn in a new villain to finish off Phase Five and Six with the doubleheader of Avengers: Kang Dynasty (May 2026) and Avengers: Secret Wars (May 2027). In that case, you're talking about a franchise already in serious creative trouble adding massive rewrites to four or five films, not counting those last two. Plus, whatever lousy streaming series these hacks have planned.
Recasting might not be so easy. Jonathan Majors is something special, a true acting talent with movie star charisma. If Michael B. Jordan had not been so iconic as Killmonger in Black Panther (2018), he might have been an option. Marvel has already recast roles. Mark Ruffalo effortlessly took over for Ed Norton as the Hulk. Don Cheadle just as easily stepped in for Terrence Howard as Rhodey. This one won't be as easy methinks.
WATCH — KANG: All the Best Jonathan Majors Scenes From Ant Man and The Wasp: Quantumania
Above all, we must all keep the following in mind at all times…
Everyone who works at Disney and Marvel hate us and are either grooming our kids or enabling the grooming of our kids, so our only responsibility is to sit back, enjoy the implosion, and hope for more bad news.
John Nolte's debut novel Borrowed Time (Bombardier Books) is available today. You can read an exclusive excerpt here and a review of the novel here.