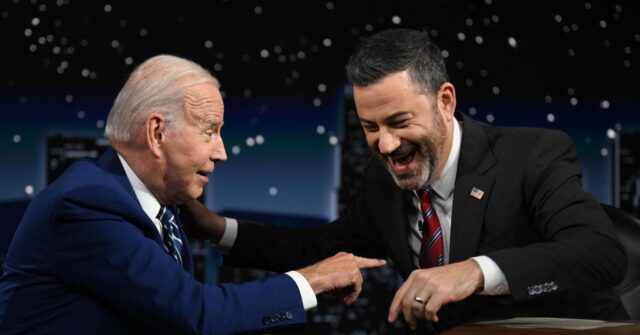 As the Hollywood actors strike comes to an end, thirsty Democrat politicians are seeing dollar signs as their celebrity pals head back to the fundraising circuit ahead of the 2024 election.
Hollywood political donations are expected to rise as celebrities are now free to attend glitzy fundraisers and wave checks at their favorite politicians — all of whom are Democrats. The Los Angeles Times reported that 80-year-old President Joe Biden is expected to touch down in Los Angeles in the coming months to vacuum up showbiz cash for his re-election bid.
Neither Biden nor Vice President Kamala Harris — who are facing embarrassing levels of unpopularity, even within their own party — has attended any industry fundraiser in recent months as it would have been seen as crossing the picket line.
Hollywood has long been a fundraising bonanza for Democrats.
In 2020, people who reported working in television, movie and music jobs donated $43.7 million to presidential campaigns and outside groups, the Times said.
Biden's re-election bid is being led by Hollywood mogul Jeffrey Katzenberg, who has pledged to deliver "all the resources" that the deeply unpopular president will need to win re-election in 2024.
Hollywood mogul Jeffrey Katzenberg has pledged to deliver "all the resources" that the deeply unpopular President Joe Biden (D) will need to win re-election in 2024. https://t.co/EXv5XPTWC8

— Breitbart News (@BreitbartNews) May 11, 2023
In 2020, Hollywood executives added diesel fuel to Biden's presidential campaign, with Jeffrey Katzenberg, Meg Whitman, Steven Spielberg and Bob Iger each donating six-figure sums.
Celebrity donors included Rob Reiner, Alyssa Milano, Norman Lear, and Barbra Streisand.
In past years, Democrats relied heavily on Harvey Weinstein to serve as a fundraising bundler for his celebrity friends. But Weinstein is now languishing in jail after being convicted of rape and sexual assault.
SAG-AFTRA members are expected to vote Tuesday on the new contract that is expected to bring an end to the four-month strike that has brought movie and TV production to a historic halt around the country.
Follow David Ng on Twitter @HeyItsDavidNg. Have a tip? Contact me at dng@breitbart.com